LONG LIVE PROGRESS!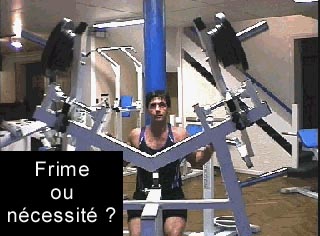 When you enter a fitness club for the first time, the first question which comes to mind when looking at the rows of machines, each one stranger than the next, is:
What's that for?

In Europe we had to wait. The Americans already had their machines after the Korean war.
They developed machines to reeducate the wounded soldiers. (The famous NAUTILUS machines, which have nothing in common with the current machines built by the same brand).

You must not think either that the first machine created in France dates from the 1980's, they already existed in spas and on the large transatlantic liners.
The clubs, however, only had basic equipment consisting of barbells, bars, discs and pulleys.

A mere incline press was already considered as relatively sophisticated, almost a luxury!
But still looking at this modern gym where "customers" or "members" train religiously and silently to the sound of soft piped music, we see that many things have disappeared.
Stolen or forgotten?
Dumbbells, barbells, discs, benches, all gone, long live the machine!
Were they no good then? Were they inefficient or dangerous?