Training technique which develops both strength and endurance.

The series of exercises proposed is one example. It shows a selection of exercises which, by alternating, allows one muscular group to recuperate while another is working.


This extremely tiring type of training is intended for well-prepared athletes.
It must be adapted to suit the targeted objectives.

Your sessions must not be all the same.
Vary your exercises, the number of repetitions and the work rhythm.

Do not systematically try to continue to work until you are exhausted.

Warm up for 15 to 20 minutes progressively before starting.
Choose lighter weights than in your regular training.

Do not allow for any recuperation time between your exercises. Do 10 to 15 repetitions for each exercise.
Repeat the circuit 3 to 5 times, allowing 5 minutes recuperation between each circuit.



A circuit-training session must always be shorter than a traditional bodybuilding session.
30/40 minutes work excluding warming up and cooling down stretching exercises.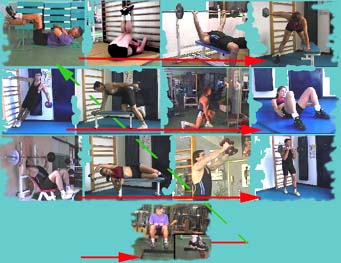 Circuit example.