DIPS are quite complete movements which, in addition to the triceps, work the pectorals if you lean forward, the front shoulders, the small pectoral when you straighten the neck at the end of the movement, the lattissimus dorsi muscles, the rectus abdominis muscles if the legs are not supported.



The dips are flexions of the arms on the parallel bars or between two benches.
Different muscle chains are worked depending on how they are done, but mainly the triceps, shoulders and pectorals.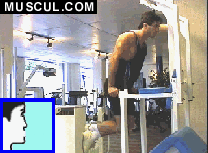 Weighted dips:

You can attach a load to the belt to limit the number of repetitions.
Trained individuals can easily do series of 25 repetitions,
which is far from being an exercise of pure strength.